A champion of local football said he is "humbled" to win the latest Maltings Community Hero Award.
Three years ago Lee Wood, the owner of local design company Ember Designs and a 30-year supporter of St Albans City Football Club (SACFC), set up community group Stand by your Saints (SBYS).
Run entirely by volunteers, SBYS has worked to integrate the club more firmly within the community – setting up match transport for elderly supporters, working with Home-Start Herts to install a soft play area at the club, and raising money for facilities at Clarence Park.
SYBS chairman Lee has also supported the club's interests at St Albans district council meetings and successfully applied for a community grant.
Lee said he wants to make the club more inclusive: "I don't think the football club should just be games at the token 3pm on a Saturday – St Albans needs a community hub where despite age and race, anyone can go and feel involved – and the football club can do that.
"This award means three years of working with some of the best people in the city. It isn't all down to me, I am part of a fantastic team and we have had full support from the football club."
He said since introducing the soft play area, which includes high chairs and baby changing facilities, more families have enjoyed SACFC games.
The 39-year-old also revamped SACFC's shop and merchandise sales before setting up SBYS.
Going forward, he would like to engage with local schools, encouraging children to be active and participate in sports.
SBYS partnered this year with Verulamium At Play, the charity dedicated to refurbishing the playground in Verulamium Park.
Lee added: "I feel very humbled, it was a nice surprise when I got the phone call."
As the winner of this month's entries, Lee receives £100 to spend in any of The Maltings' shops and is entered into the Herts Advertiser Community Awards finals in the autumn.
To nominate someone for next month's award, email hadcommunity@archant.co.uk with the name of the nominee, their contact details and your name and contact details.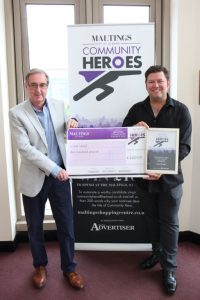 Herts Advertiser The Maltings Community Hero May Winner Lee Wood. Picture: DANNY LOO